Stevie Award
VersAccounts won the GOLD STEVIE® New Product or Service of the Year – Software – Cloud Enterprise Resource Planning (ERP) Solution.
Finances Online
VersAccounts Cloud ERP was recently examined by FinancesOnline, a popular software review website that preselects quality software..
FrontRunners
This FrontRunners analysis is a data-driven assessment identifying products in the Enterprise Resource Planning (ERP) software market.
Best in Biz Awards 2017
VersAccounts ltd. has been named a Silver winner in Start-up of the Year category in Best in Biz Awards.
Product Feature Videos
The Versa Cloud ERP System Overview
Manage the Versa Cloud ERP system with a dashboard that displays essential data you can understand easily with customizable widgets. Access your Invoices, Bills, Product, Projects, Orders Menu, Logistic Menu, Reports, Case, Set up, General ledger, Tools through a user-friendly dashboard that is designed for efficiency.
More Product Videos Coming Soon
---
CRM
Sales/Purchase Pricing
Power Selling
Power Collection
Pricing for Profit
UoM
Purchase Planner
BOMS
KITS
Forms Customization
Dimensions
Reports
Report Developer
Bar-code Scanning
Label Printing
B2B and Customer Self-Serve Portal
Multiple Warehouses
Multi Entity
Multi-Currency
API
Custom Fields
Settings/Options
Purchase Planner
Import/Export
User Access
CC
ACH
Logistics Integration
Shopping Cart Integration
Marketplace Integration
EDI
Process Videos
The Versa Cloud Typical Purchasing Workflow
Learn what a "typical" purchasing workflow looks like in the Versa system. A comprehensive view on how to create a product, submit a purchase order, learn how to receive that product, and create a bill to pay your supplier.
More Process Videos Coming Soon
---
Builld/Assembly
Work Orders
Ordering Using KITS
Implementation
Customer Success Stories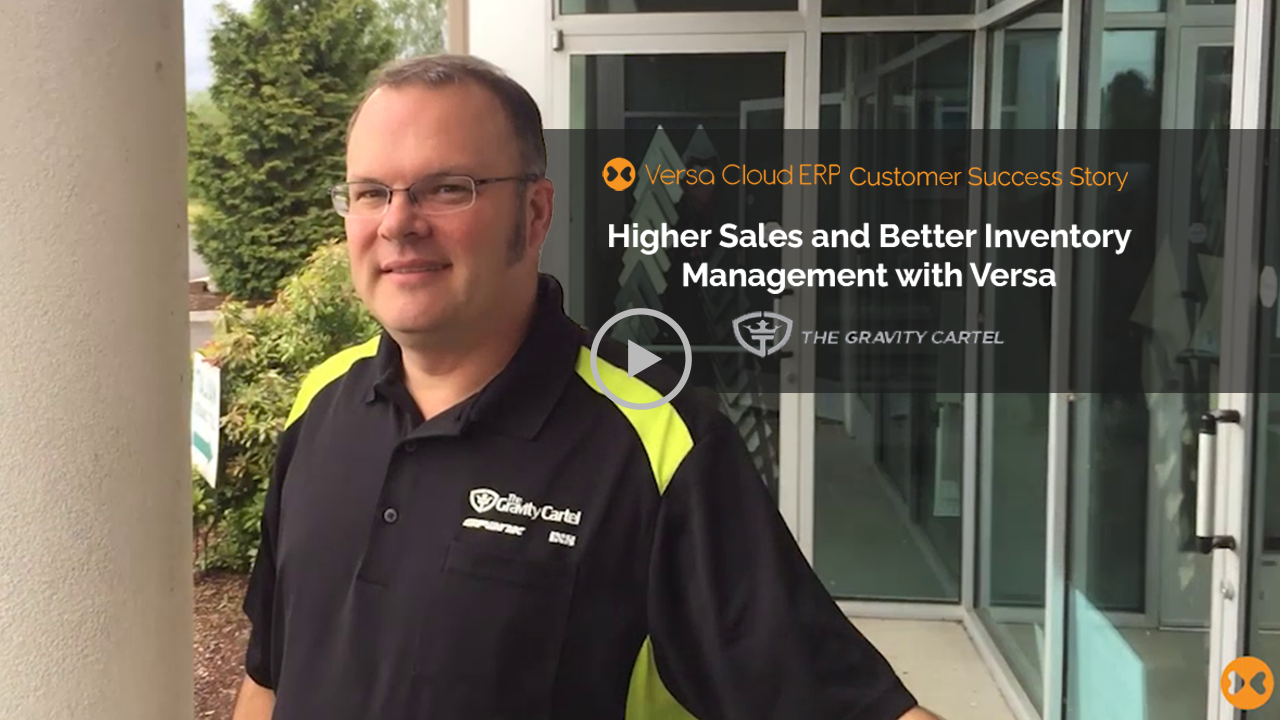 The Gravity Cartel: Higher Sales and Better Inventory Management with Versa
The Gravity Cartel, a Vancouver-based master distributor for Spank Bikes & iXS Sports Division, is involved in both B2B and B2C sales via distributors, retailers, and online marketplaces like Amazon, as well as riders and end customers via its own e-commerce-enabled website. They switched to Versa Cloud ERP in 2015 and since then, they have worked closely with Versa to optimize the software they have deployed to improve inventory management and drive sales growth including a 40+% increase in pre-season sales in one year.
More Industry Focus Videos Coming Soon
---
AADL
DSCSA
F&B, Tobacco - MCAT
Oil & Gas
Webinar Replay Videos
Versa Cloud ERP Expert: B2B Portal
This webinar session will give you an overview of Versa's built-in B2B portal, its features, workflows, customization, and how to enable and use it. Examples of 3rd Party B2B Portals were also presented.
See All Webinars